Pond Chan 2022-07
Some Christian parents are unaware of the cruciality of their children's belief in Jesus. And even consider that they will make their own decisions when they grow up. Without God's guidance, would lead children under foul and fail by the world's unhealthy trends; as a result, they may become atheists, pantheists, and even heretical cults!
Since I first believed in the Lord, I heard Dr. Esther Su remind Christians that when children are 3 to 4 years old, we should lead them to Jesus, and the Holy Spirit will help and guide them.  Then I took action to teach my grandsons, aged 3 and 4, to believe in Jesus.  I testify that they have received God's life and the Bible's truth after believing in the Lord. Likewise, I have encouraged many Christians to lead their children and grandchildren to believe in Jesus.
Start children off on the way they should go, and even when they are old they will not turn from it. (Proverbs 22:6)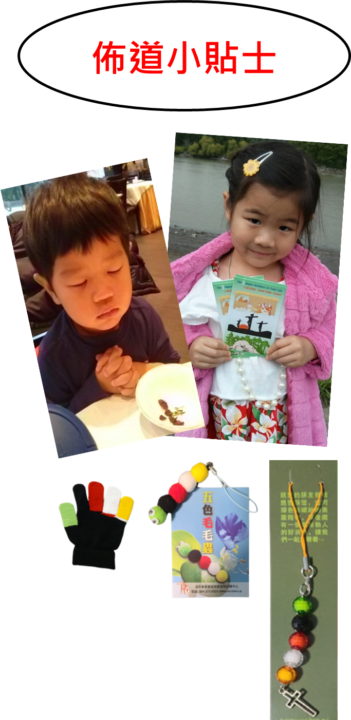 Ways to Lead Children to Jesus
Pray that the Lord will send you and give you power & authority. (ref. Romans 10:15, Matthew 28:18-20)
Preach the Gospel to children with a cordial attitude.
Use lively methods to attract children and use children's Gospel tools.
Use Gospel tools (products made by the STM center – five-color gloves, five-color beads, five-color caterpillars) to illustrate salvation.
The content of salvation should refer to what children could relate to (Christmas, Good Friday, Easter) to the briefing on salvation.
When mentioning sins, cite their behavior (naughty, disobedient, arguing, fighting, tantrums, etc.).
The Holy Spirit can boldly lead children to confess their sins, repent, and confess that Jesus is the Lord of their lives and the Lord who rose from the dead.
Slowly lead the children to pray and decide to believe in Jesus (the content of the prayer has been included in the gospel tool).
Boldly ask after prayer: "Where is the Lord Jesus? Has the Lord Jesus forgiven your sins? Where will you be with the Lord in the future?"
Teach them to pray and thank the Heavenly Father every day when they get up, before bed, and before eating.
Nurturing Children to Grow in the Lord
Lead them (participate in children's worship, sunday school, AWANA, study children's Bible)
Christian parents are good examples and be good witnesses for the Lord in front of Children.