Raymond Cheng
CreationCare120  Founding Member
2022-04
At the beginning of the war that broke out between Russia and Ukraine, the gas prices had surged to hit record highs.  Now, as the intensity of the war is lower, so as the prices. However, the high Canadian gas prices have already become the motor users' heavy burden on all means of expenses.  This year the carbon tax was increased to eleven cents per liter on April 1st according to the Federal carbon tax policy which was implemented in 2019.
As motor users, we found that gas consumption has tremendously decreased during the COVID epidemic courses. Simply because we worked from home, limiting going out activities and gatherings thus reducing the expenses on gas.  We also implied the "new normal" lifestyle, some private meetings, conferences, and school courses were being conducted online,  resulting in the chances to use cars being diminished., which, in turn, had lowered the carbon emission in the past two years. Also, going hand in hand with the "new normal"  life model is brevity, whereas the essence of wardrobe, meals, and even transportation tools.
Today both the Federal and Provincial Governments are offering incentive programs for operating Electric vehicles on the roads. They provide up to a total of $10,000 rebate on purchasing. It attracts much attention from the consumers. We believe many of us have already acknowledged plenty of advantages of Electric cars.  Examples, "Null" noise and air pollution, low maintenance costs, privileges of the use of HOV lanes on highways, etc.  For most of us who are in debating on our affordability and practicality such as no in-house charging, or facilities being built, E-bikes can be an option recommended. One of the many good factors are not only you can help to reduce air pollution by conveniently using the designated lanes built for use by cyclists around the city but avoid traffic jams. And with the battery-powered built-in parts gives a higher balance of performance in time use and wear and tear.
As God creates man, He entrusts us with the order to take care of our nature.
"…to work it and take care of it." (Genesis 2:15)
Nowadays we are often made aware of the use of the three-letter" R"- abbreviation words to encourage the public to participate in the environmental convention. They are "Recycle", " Reuse" and "Reduce"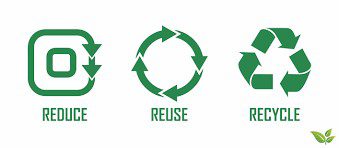 We are now more familiar with the word "Recycle" marked on the recycling boxes, we suggest that "Reduce" is what everyone can first practice in everyday life to take care of the environment. Whenever we are going out and planning to use the car, shall we firstly reconsider if the trip is a must,  or we can use the public transit that is available or walk. I
The  Bible scriptures teach about trustworthy stewardship.
Come, let's work and take good care of the nature that the LORD orders for us!
Where do you plan to go tomorrow?
Is it necessary?
How would you modify a simple life?