By Dr. Enoch Kwan – dated February 28, 2023
The "Asbury Revival 2023" flooded news channels since mid-February, stirring up much excitement and debates. Reports of how an ordinary chapel in a Christian university in Kentucky turned by the initiation of the students, blessed by the school, into an extended semi-organized time of worship, singing, confessions, and prayers. People from the school and many who took a trip, hours out of their way testified extraordinary feelings and conviction of God's presence. Despite some skeptical commentaries, most reports indicate a genuine, unmanufactured sincerity. The Asbury administration was also mindful that a genuine revival should not be just excitement and experience of God in their school but should have broad support from people outside their community. They thus concluded the in-school service and commissioned those who would go and share that message of confession and repentance with people in other universities. The same conviction and call were passed back and forth between many universities and received very positive responses. So, is it a real revival?
In my 65+ years of church life, I observed many churches on different continents and cultures. I have led both Chinese and multicultural churches. I heard much more from my pastoral friends of church and faith crises than celebrative testimonies. I found ministries burdened church leaders with no energy for their spiritual walk with God. I am convinced that most churches I saw in Asia, the Americas, and Eastern Europe are lost and weak.  A revival is needed.
I viewed many videos and read news articles starting on day 7 of the Asbury marathon chapel. Though I wished it was a real revival, my reaction was, "I still cannot yet tell." I figured it would take time, broad spiritual influence, and fruit for any event to qualify to be honored with a Revival label.
A few more questions lingered in my mind over the next two days – what if God initiated it? What qualifies me to pass a judgment to say if it is or not? What is the value of watching and passing judgment about its nature? If it is a real revival started by the Lord, I better not criticize it but should be a part of it. I want to be included if there is a real one.
Yet, if this thing does not touch my longing heart enough to move me to plunge into it, then it will prove itself just an isolated event. But my desire to see it turning out to be a natural movement became stronger and stronger in the next few days. We who are outside of Asbury can make it a real revival, or not. It depends on how (and if) the Holy Spirit moves among us. Revival can start where we are now even if things at Asbury stop because the Holy Spirit leads it and not by a particular campus. However, a revival can take off if a critical mass of people gathered to make it so, or the movement's fire dies down if the critical mass is on the cold side.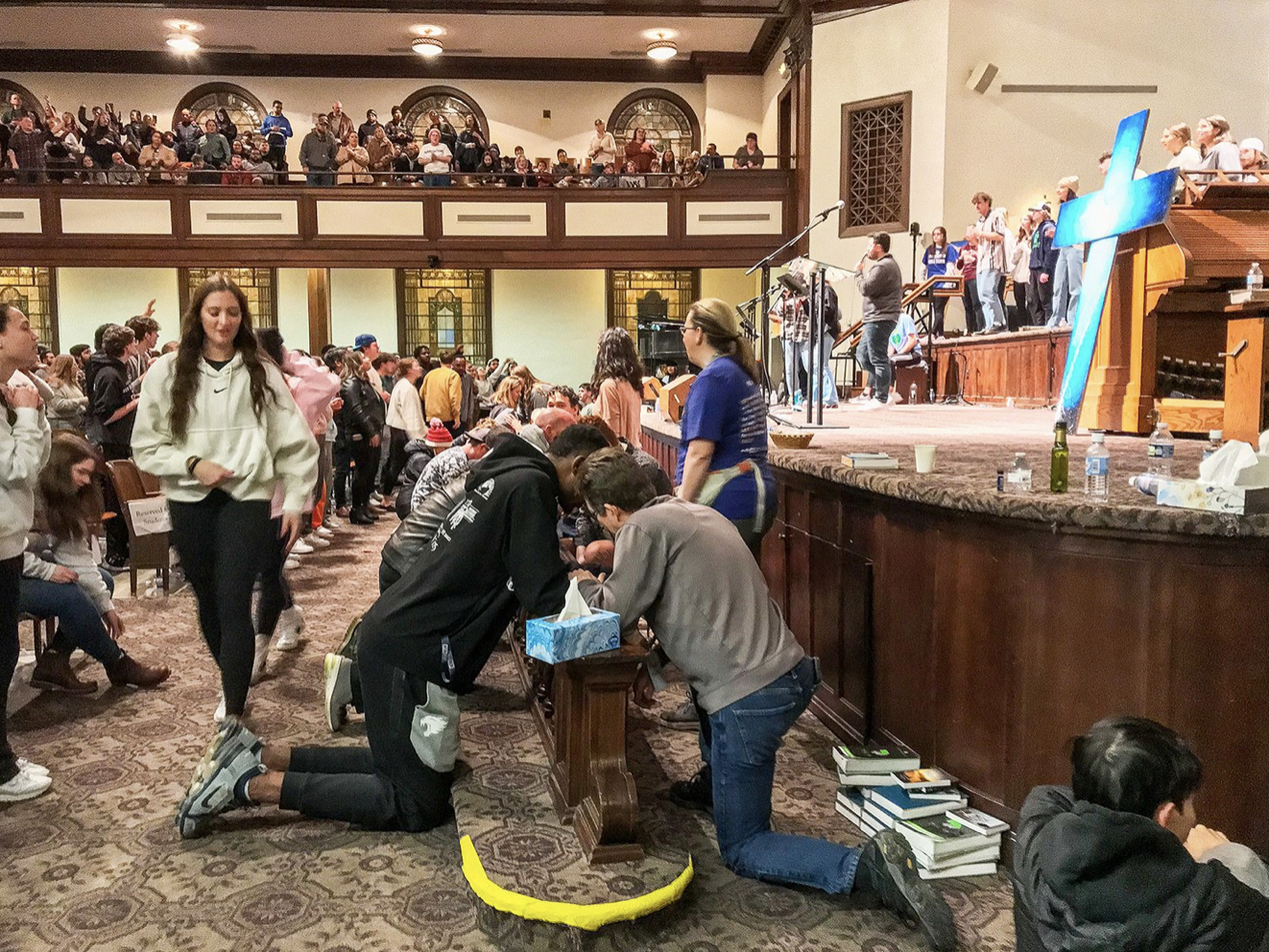 A real revival is not prolonged hype-up singing and prayers that stay in a chapel. A revival must spew out of that starting place and make waves in the general community and beyond many communities. First-person's telling of feelings and excitements are fine, but they are only weak evidence that does not convince its status. A true revival needs many third-party testimonies that point out the positive fruit and impacts the first party had on their communities. This process may take only a few days, but can also be longer, up to months, if not years.
How should we validate Asbury 2023 or any movement that sprung up? Historical events, personal experiences, or testimonies are helpful but never exhaustive or authoritative. What would God want to revive? What should things look like after the revival? While following the Holy Spirit is necessary for any revival, the outcome should be consistent with instructions from the Scriptures. Can the model or instructions found in the Bible indicate a normal state of the Church or Faith that God is restoring? These questions are worthy of careful examination even before we plunge into the throng.
I want to share what I understand as God's desire in the Christians' lives, so we are not stuck with only the beginning and knowing not what to do next when a real revival comes.
A kick-off event is like the taking-off process of an airplane. An aircraft does not just keep taking off. It needs to take off only one time and land when it arrives at the destination. In the Christian's or church's life, landing is like the time of giving account to God concerning our lives. If we are in flight already towards God's destination, we will need no second take off, and thus no revival is needed. God wants to make a revival take off because the Church was stuck on the ground.
There is a "Normal Christian Life" (not the Watchman Nee's type) – a way of everyday living that God had ordained for His purpose. A revival is needed because this everyday life is missing or has diminished vital signs. A true revival means restoring Christ's Church – the Christians to live out this "flight-as-planned life." In fact, throughout my Christian days of over 60 years, I had focused on learning about this everyday Christian Life. What I discovered is not scholarly, but it is a mix of Bible study and memorable times of insights into fellowship with God. The book Cultivating A People for God, published by Amazon Kindle or WestBow Press in 2018, gives an account of my discovery – which I will summarize below.
The idea is simple: God's requirement for His Created humans and the Chosen People to walk with Him does not change. He gave His instructions once and for all, requiring no update or upgrade like today's software. A deep understanding of the Commandments (10 Commandments) and the Great Commission will lead us towards this are a simple way that is comprised of 4-SHIPS:
The way of Worship (Commandments # 1-3) – our daily ever-deepening and purifying of our attitude towards God, honoring Him, Loving Him, Fearing Him, obedience, keeping ourselves from sin, church worship, daily devotion, prayer, and Bible reading, etc. make up our worship for God. We can worship personally and corporately towards God and for God to bring honor and glory to Him. God, not us, is the most important One who should receive the joy of our worship.
The way of Stewardship (Commandments # 4) – our daily attitude and practice of being God's servant, regardless of age, treating all responsibilities as God ordained. Fulfilling daily work and tasks, whether at home, work, school, or community, and offering the fruit and our hearts of stewardship daily as a living sacrifice to God like a faithful servant, keeping a constant and prayerful check on God's will in all that we do.
The way of Fellowship (Commandments # 5-10) – treating all relationships with people in light of God's love, sharing honor and respect, accepting, welcoming, being kind, gentle, and forgiving when interacting with the kind of God's love with everyone around us as Jesus would.
The way of Discipleship (Great Commission – Exodus 19:5-6; 1 Peters 2:9; Matthew 2:19-20) – exerting a Godly influence and oozing out of our lives the message of the Gospel. Attracting people to Christ and Salvation through Him, by our lives that are well lived like the above 3 "-ships." Have a ready answer to explain our hope and salvation in Christ, to lead people to Christ, and to live a full 4-ships driven life.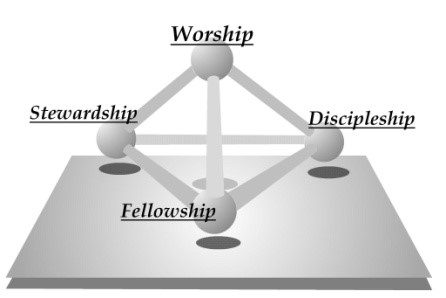 These four channels of our relationship with God are an integrated life of total worship, which I describe as the Normal everyday Christian Life. The four areas must be well balanced to attain a healthy, mutually joyful, and satisfying spiritual walk with God. It is a spiritual journey with a clear destination. The 4-ships-driven lives and 4-ships-driven church culture will yield a rich harvest of fruit, blessing ourselves and our neighbors while worshiping God. It is a beautiful sight in the universe that can cause the not-yet-believers to wonder, and cheer the angels in heaven! God and humans enjoy a heavenly fellowship that will extend into eternity, as designed at creation.
I believe the missing, or the out of balance of the 4-ships-driven way of life (it can possibly be described in other ways, too) is what grounded the churches and Christians today and requires a revival. It doesn't matter if the Asbury commotion turns out to be THE Revival of our days, we are to pursue this same path to live a God-pleasing life. If, in the days ahead, we see a great revival going because of Asbury 2023; you will certainly see the same fruit born as described in the above 4-ships. If not, a revival can happen with you and me as we seek progress in these things together – for God's pleasure and blessing for man.