Author: Helen Man  Translator: Kim Ng
HORRIBLE MICKEY
Since Walt Disney's public declaration of support for LGBTQIA last summer, its image of a healthy traditional family has been poured down the drain:
Disney will delete all the gender-specific addresses such as Ms., Mr., boy, girl, auntie, uncle, brother, princess, prince, or queen. A new rainbow appearance of Mickey will then be created. (Note 1)
The president of Walt Disney, Karey Burke, has announced that her two children are transgender and pansexual. Thus, she wholeheartedly promoted Disney as a spokesman for LGBTQIA, hoping to influence other children and families.
Bob Chapek, the chief executive officer of the Walt Disney Company, apologized in public to LGBTQIA for all the traditions in the past and proclaimed LGBTQIA as his ally.
On March 29, 2022, Disney amplified its gender politics by remaking the past movies and changing them to fit into the theme of LGBTQIA.
In the current movie, "Buzz Lightyear of Star Command", one of the main characters has become pansexual, adding two female characters kissing each other. (Note 3)
CONSERVATIONISTS VS MICKEY MOUSE
Ron DeSantis, the governor of Florida, has been opposing WOKE, which segregates colors and promotes White Hatred.
In early April, Governor Ron DeSantis signed a Parental Rights in Education bill to stop LGBTQIA from promoting and implementing the curriculum of gender identity and sexual orientation. (Note 4)
Bob Chapek, the chief executive officer of Disney, strongly opposed this Education bill:

shifting his financial support from the conversationalists to the LGBTQIA groups.
assisting daily protests against the governor of Florida.
having Nadine Smith, the Executive Director, organize mobs to fight against the governor. (Note 5)

Disney's efforts were a loss as a private government. The Florida Senate signed the bill to dissolve all Disney's independent special districts (collecting its tax and planning its construction) since the governor found WOKE a threat to Florida. (Note 6)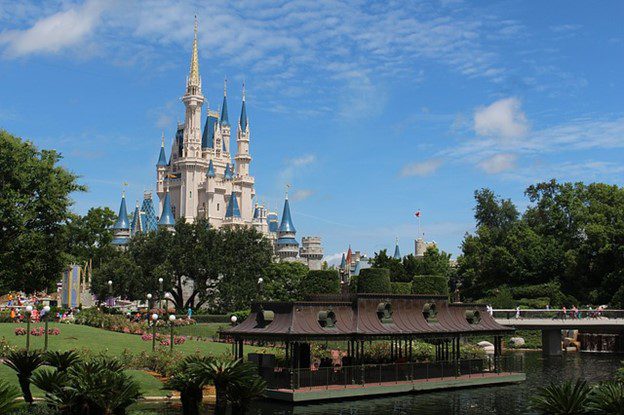 It's terrifying that Disney has disguised itself to instill wrong sexuality in young children. Imagine someone who has no idea about one's sexual identity, one's marriage life will also be ruined.
Would staying away from Disney's World solve the problem? No. Satanic power penetrates every aspect of our society. "Be alert and of sober mind. Your enemy the devil prowls around like a roaring lion looking for someone to devour." (1 Peter 5:8) Some parents in a school district of Dillsburg, Pennsylvania, even requested to organize an After School Satan Club in a school. Luckily it was turned down. However, in many other places, Satan Club was gladly welcomed (Illinois, Washington State, Seattle, Los Angeles) in rapid growth, targeting ages 5-12, who are easily deceived.
How else can we withstand Satan? How can we protect our children from the devil?
Let's get to know the only true God who is the holiest, omniscient, omnipotent, merciful, and kind. Repent and accept Jesus Christ as your personal Savior to become a new person. "Now this is eternal life: that they know you, the only true God, and Jesus Christ, whom you have sent." (John 17:3)
As we hold on to the everlasting truth, the Holy Spirit stays in us as our timely help, and we can discern the devil's tactics.
Here is a summary of my suggestion on how to be a good mom or dad:
Love your spouse and protect your marriage and family.
Extramarital affairs could be the number one killer of marriage. It's important to treasure your spouse and cultivate love. You will be a good role model to your children.
Spend time with your children instead of letting social media become a babysitter.
Social media has a low morality: violence, money supremacy, promiscuity, cohabitation, one-night stand, trial marriage, homosexuality, etc. Besides, electronic games can be addictive. Children who indulge in their virtual world might practice their fighting, violence, gun shooting, and pornography without consequences. Some teenagers may run away from home or become a victim by meeting a stranger online.
Actively get involved with the parent association in your district and understand its sex education.
Find out the purpose of your children's summer camps. Biden has publicly proclaimed to support transgender surgeries on children above 8 years old without parental consent. Denny Burk, the spokesman of Southern Baptist Theological Seminary, publicly refuted Biden's absurdity. (Note 8) So moms and dads must be cautious not to let their children go in irreversible directions.
Guide your children to trust the Lord while they are young.
No matter how hard we try to help our children to be successful, life is still temporary. Therefore, helping your children get to know Christ for eternal life and having a meaningful life brings them better results. Many moms and dads regret that they haven't grabbed the opportunity to bring their children to Christ while they were open and innocent. Under the guidance of the Holy Spirit, they would be able to discern right from wrong. They would dare to be the mainstay, not to follow the crowd, escape temptation, have purpose and joy in life, and assurance of eternal life. "When Jesus saw this, he was indignant. He said to them, "Let the little children come to me, and do not hinder them, for the kingdom of God belongs to such as these." (Mark 10:14)
May God help you understand salvation and bring your whole family to Christ as a good role model. This is the most important thing to do!
(Notes 1-8 from websites)