By Pastor Tracy Wong
1 Peter 2:9 said, "But you are a chosen people, a royal priesthood, a holy nation, God's special possession, that you may declare the praises of him who called you out of darkness into his wonderful light." Thanks God that JLC 2017 held from August 22nd to 27th has successfully completed. As I reflect upon this JLC 2017 (English team), this scripture came to my mind. Praise the Lord, JLC 2017 brought us together in ONE.
We are one PEOPLE – When we were planning this JLC, we prayed to our Lord that He would give us 50 people for our English team. Thanks God, we've got 60 brothers and sisters coming from 29 different churches joined us this year. When I look at the combination, I even found some exciting data that I would like to share with you.
Mixed combination: we have all ages which including kid, teenage, university student, young adult, couple, middle age and retired. We even have 6 mothers bringing their kid to join us. We have different nationalities like Messianic Jews, Taiwanese, Cantonese, Mandarin, Jamaican, African, CBC…
Many pastors: we have 11 pastors from 10 churches joining us. They took up different roles like leading devotions, conducting workshops, modeling how to share the Gospel, also encouraging and empowering our brothers and sisters in knowledge and spirit.
A big family in Christ: most of us got acquainted for the first time. But when we got together, we immediately mingled together like a family.
This is amazing. I believe it is because we are partners in the gospel; our hearts united and our hands joined working together. JLC 2017 connected God's PEOPLE to Jesus.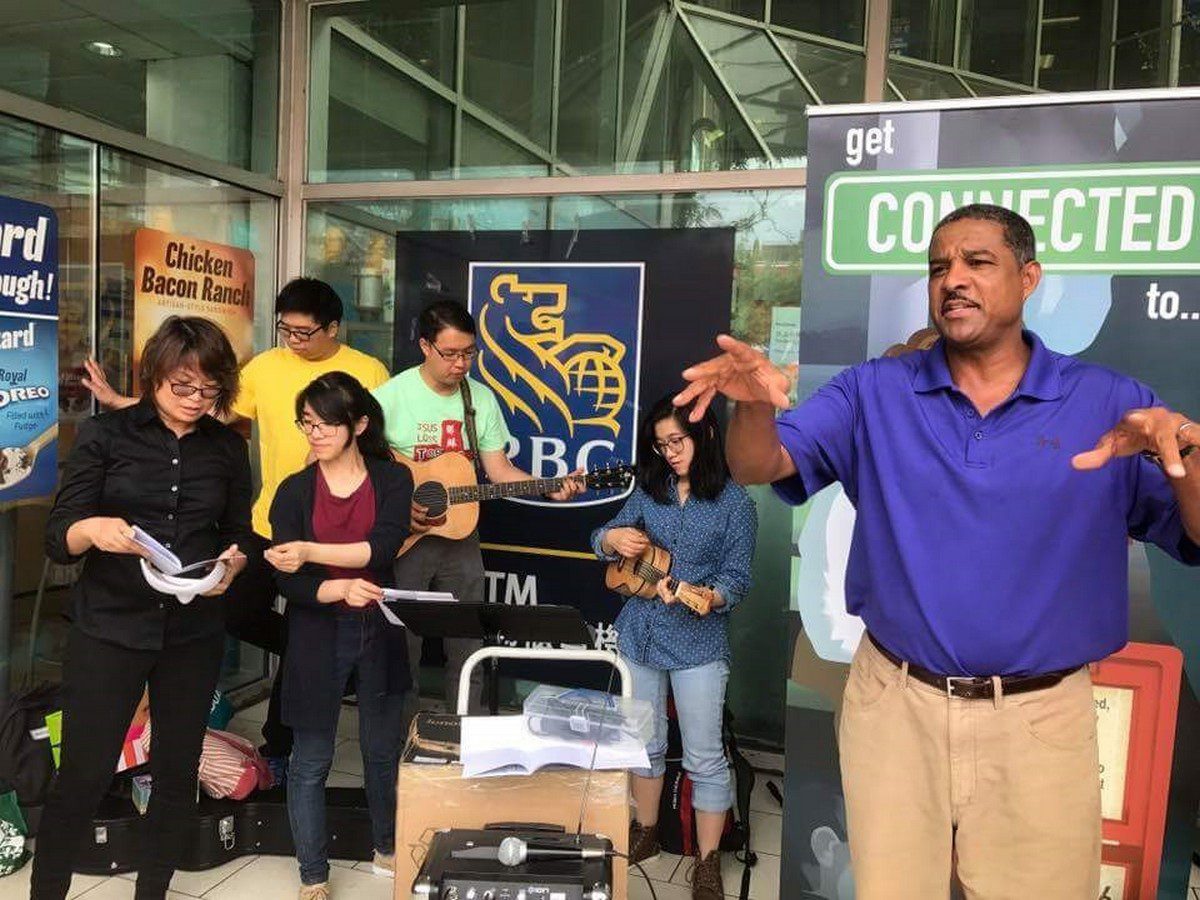 We serve in one CITY (Toronto) – Downtown Toronto is an exciting city. During this week, we went to different places like, Chinatown, Harbor Front, Scott Missions Centre, hospitals, Atrium on Bay, Dundas Square, Village by the Grange and Grange Park. We shared Gospel to people at mall, park, food count, door-to-door, street and hospital. We used different media like singing songs, playing mime, preaching, sharing testimonies, using the 5-colour gospel phone chains or handing out TM newspaper and Bible. As we explored the city, our eyes were opened and we saw the need of the city. One of the participants told us that although Chinatown is where she passed through every day, this time, she saw a different Chinatown. She saw many lost souls whom only Jesus can save. Some also said that they saw many people they are despair. Not only do they need our help; they also need hope that only Jesus can give. When we are willing to step out from our comfort zone, we see that Toronto needs Jesus. JLC 2017 connected the CITY to Jesus.
We speak One LANGUAGE – no matter what mother tongue we speak, we speak in the language of LOVE. As the coordinator of JLC 2017 (English team), I have to admit that coordinating this JLC English team was not an easy task. I had so many burdens in the heart but lacked wisdom to carry them out. Thanks God for the loving committee as well as many gifted team-mates who were willing to help when needed. The LOVE of Jesus was fully manifested through all of them.
Moreover, there is always no guarantee of registration. When people came registered, I know in my heart that they were called by the LOVE of Jesus.
During this week, we worshipped, learned, spread the Gospel, ate, shared and prayed together in oneness. This love of brotherhood keeps us together as one great team of Jesus.
In fact, if we had no LOVE among us, people could hardly feel their need for such amazing LOVE that comes only from Jesus. We share not only the message but the LOVE of Jesus. JLC 2017 connected people through the LOVE of Jesus.
We have one MISSION – Every day we were encouraged to use the '5-color Gospel phone chain' to tell the Good News to the people that we got connected. This was our message. This was also our mission of JLC 2017. But our mission did not end with the program. As we came to the last day, all participants were given a piece of '5-color Gospel phone chain'. It serves as a reminder of 'being sent'. We will not stop witnessing Jesus. We will not stop telling people that Jesus is the way, the truth and the life; no one comes to the Father except through Him. This is our mission. The world needs Jesus. We are Jesus' freaks. Are you ready to stand up for Jesus in this End Time? People need the Lord and we are His conduits. May Jesus see we are His faithful witness! May the world see His glory through us! May God bless His churches! Amen!
In this week, we have contacted 348 people; Gospel shared with 171 people and 9 people accepted Jesus. Praise our Lord!